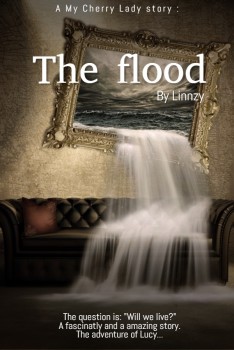 The Flood - Chapter 2
The river has burst its banks and people are having to leave their homes quickly. Will the Kellys have to leave home too?

Tom Kelly was out on the river in his boatIt was only a little rowing boat, but there was nothung in theworld he loved more .It was raining, but Tom haedly noticed it. He didn't mind getting wet when he was out in his boat.
-Hey!
a man called from the path.
You'd better watch out. Several trees have been blown down higher up the river and they're floating this way. Your boat could get smashed to pieces
-Thanks for the warning. I'll bring her in now.
shouted Tom.

He began to row towards the bank. The river was running si fast that it was difficult to control the oars.
He tied the boat up and ran down the bank towards his house.
-You haven't been out on the river, have you? Oh, Tom, I hate it when you go out in weather like this. It's awfully dangerous. You could easily be drowned.
said Mrs Kelly.
-Sorry, Mum,
said Tom.
What's for supper?
-I wanted to make pancakes,
said Mrs Kelly,
but I haven't got any milk. Could you go next door, Tom, and ask Mrs Wilson if she can let us have some?
-Do I have to?
said Tom
He didn't know the Wilsons well. He had seen Lucy sometimes. He liked her. He liked her a lot. But he hadn't spoken to her. He had always been too shy.
-If you want any sipper...
said Mrs Kelly began.
Suddenly, the telephone rang. Mrs Kelly answered it. She listened for a few minutes, then she went pale.
-That was Mr Wilson,
she said.
W
e've got to leave home at once. They're evacuating the whole street. The river banks have burst. There's going to be a flood!
To be continued...