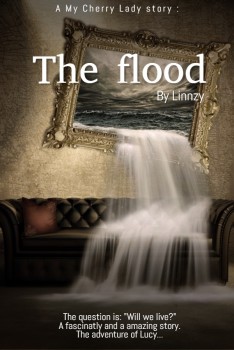 The Flood - Chapter One

Lucy Wilson picked up her pen and put it down again.

I can't do this stupid homework, she thought. It is so boring.

She turned on her radio. The news was just finishing.

And now for the weather forecast,

the man announced.

'Heavy rain will continue all through the night.'


Lucy looked out of the window. It was raining. It had been pouring for at least ten days. Beyond the road in front of the house was the river. The water had risen in the past hour. It was nearly at the top of the bank, which was higher than the house.


I'll get myself myself a coup of coffee

thought Lucy.

It might help me work.

She went downstairs. In the sitting room, her little sister, Annie, was watching TV, and her mother was working on her computer.


-The forecast's bad again, mum,

said Lucy.


-Don't talk to me just now,

said Mrs. Wilson.

I've got to finish doing this budget. There's a very important customer who... now, let me see. In the current account there's...




-I'll get you some cofffee,

said Lucy.

Poor mum,

she thought.

She works terribly hard.


Her mother's busniess was difficult to keep going, but it was doing well at that moment. Since Mr Wilson had lost his building company last year, Mrs Wilson had to earn all the family's income. Lucy went into the kitchen and put the water on to boil.
Suddenly, the door opened and her father ran in.


-Quick,

he shouted.

Pack some clothes! We've got to leave now! Right now!




-What? Why?

, said Lucy.


-The river's burst its banks,

said Mr Wilson.

The police are evacuating everyone. They're taking us up the hill to the school. We've got to be out of the house in ten minutes!